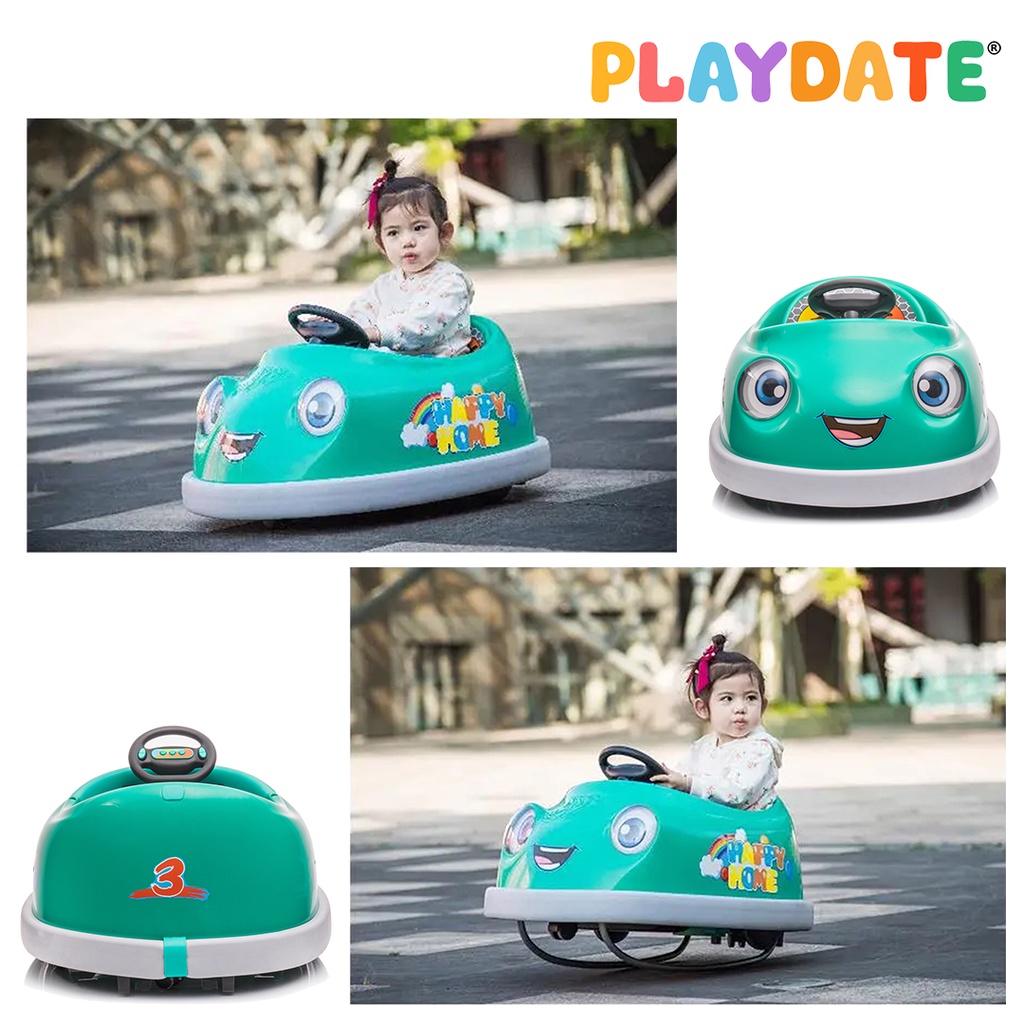 Playdate brings the theme park to the comfort of your home. Let the kids enjoy the fun of riding and driving their own mini version of a theme park bumper car.
The Mini Dodgem is an electric powered kids ride on toy that is designed for both indoor and outdoor use. Surrounded by a soft rubber body anti-collision strip and equipped with the movement capability to spin 360°, they guarantee tons of fun for kids in any space may it be a small playroom, living room, or big open areas.

Drive to play: Press both buttons on the steering wheel to move forward. Press the left steering wheel button to spin left. Press the right steering wheel button to spin right.

Remote controlled play: Adults can control the bumper car using the wireless transmitter (ideal for kids who cannot drive on their own yet). Varying speeds can also be set using the remote control. Park mode is also available in the remote to prevent young kids from driving on their own unaccompanied by an adult.

Manual play: Simply retract the telescopic push bar.

Rocker mode: Simply unfold the rocker bars and the car is ready to rock forwards and backwards (ideal for younger kids).

Entertainment: Pre-loaded with songs that your kid can enjoy while playing. USB and bluetooth audio also available for customized music.

Optional: Connect the additional Playdate Junior Buggy and another child can sit and join the fun (perfect for kids with siblings or simply to play with other kids).

Playdate Mini Dodgem Bumper Car Ride On Toys for Kids Toddlers Boys and Girls

- Max weight is 20KG
- This product should be installed by adults

- Please charge 4-6 hours before first use

- Charging time: 8-12 hours, do not exceed 15 hours, it will damage the battery

- Speed 3-7 kph

- Battery capacity: 2pcs 6V4.5AH

Package inclusions:

- Playdate Mini Dodgem
- Bluetooth audio steering wheel with pre-loaded music

- Remote control (please check manual for pairing instructions)

- Built-in foldable rockers

- Retractable telescopic push bar handle

- Removable kids tray (feeding, playing, etc.)

Rules for Safe Riding:
- Never leave child unattended. Adult direct supervision is required. Always keep child in view when child is in the vehicle. Keep children within safe riding areas
- Use the toy only on flat surfaces. Such as inside your house, garden or playground.
- Never use in the dark. A child could encounter unexpected obstacles and have an accident. Operate the vehicle only in the daytime or a well-lit area.
- It is prohibited to change the circuit or add other electric parts.
- Inspect wires and connections of the vehicle periodically.
- Do not let any child touch the wheels or be near them when the car is moving.
- The vehicle has adjustable play seat belts. Please instruct children how to tie the safety belt before using, guarantee the safety.
Charging:
- When the vehicle begins to run slowly, recharge the battery.
- After each use or once a month, minimum recharge time is 8 to 12 hours, less than 15 hours at most.
Maintaining:
- Do not wash the vehicle with a hose. Do not wash the vehicle with soap and water. Do not drive the vehicle in rainy weather. Water will damage the motor, electric system and battery.
- Clean the vehicle with a soft, dry cloth. To restore shine to plastic parts, use a non-wax furniture polish. Do not use car wax. Do not use abrasive cleaners.
- Do not drive the vehicle in loose dirt, sand, or fine gravel which could damage the moving parts, motors or electric system.
- When not using, all the electrical source should be turned off. Turn off the power switch and disconnect the battery connection.